Posted by Cyn | Filed under College, Writing
And so far, I've only lost one point in my Project Man­age­ment class, none in the oth­er class. That was due to a stu­pid mou­s­ing error — bad hands! Oh well, if that's all my hands cost me this semes­ter, I'll be hap­py.
The career course required us to do "long-term career plan­ning" this week. I don't know how use­ful their idea of career plan­ning is, to be hon­est, in today's econ­o­my. There aren't many peo­ple who can count on mov­ing up steadi­ly in one path, due to the fact that the econ­o­my changes so much more quick­ly than it did 30 to 50 years ago. Do I feel san­guine about mak­ing pre­dic­tions as to where I'll be, pro­fes­sion­al­ly, in 30 years? Um, no. For one thing, I'll be 71 years old then! For anoth­er, I'll be hap­py just to get back to work, peri­od!
Today's Thing-a-Day time was spent col­or­ing. It was nice.
I have a hap­py Sam­bear danc­ing in front of me, because he just post­ed Chap­ter 17 of Heart of the Hunter. He already hit his word tar­get for the nov­el, but hap­pi­ly, he isn't stop­ping 'til the plot is wrapped up.
Tags: careers, podcasting, Sam, school, Thing-a-Day, Writing
Posted by Cyn | Filed under College, Critters, Family, Fun, Geekery, Health, Home, Needlework, Podcast, Writing
I am, in fact, still keep­ing up with Thing-a-Day! I need to go post over there, though. I do wish I could auto­mat­i­cal­ly cross-post, but if wish­es were fish­es and all that.
I stitched tonight while Sam and I gamed. I also wrote for a while, ear­li­er. Sam and I have recent­ly begun par­tic­i­pat­ing in a forum that does a great job of encour­ag­ing intro­spec­tion, and being a safe place in which to express one­self. It's a pow­er­ful thing, and I'm in awe of the peo­ple who cre­at­ed and run it.
Read the rest of this entry »
Tags: date, Gaming, Katie, Kioshi, Needlework, podcasting, Sam, Shelley, sick, Stitching, Thing-a-Day, Veronica Mars
Posted by Cyn | Filed under Blogging, Critters, Fun, Geekery, Reading, RPGs, Writing
My cre­ative time today was spent web­mistress­ing. I tweaked some Word­Press tem­plates to work bet­ter, and moved more stuff over from my old site for­mat to Word­Press. It may not seem like much, but I always rewrite and update as I do that, so I fig­ure it counts.
Sam and I had lots of fun in our game tonight. It's a lit­tle weird to real­ize that some­one is an avatar of a deity and that not only does he not know it, he's nowhere near ready to real­ize it. Then there's the whole issue of not let­ting that lit­tle fact slip at all, because an entire race of peo­ple is wait­ing for his return (and they real­ly, real­ly need him now, of course).
I real­ly should go to the library tomor­row, but I don't know if Sam will have time to dri­ve me there. I have books to return and books on hold to pick up. I'd best go to bed now, to improve my chances of wak­ing ear­ly enough to ask him.
I need to give Kioshi some extra scritchies, though, and I'm think­ing about Jen and her fam­i­ly, who had to let go of their newest feline fam­i­ly mem­ber today—he had feline leukemia. I always think of our Andre and Tom-Tom when­ev­er feleuk comes up. I'm glad Kioshi didn't catch it from his par­ents, as our babies and theirs prob­a­bly did. Please, vac­ci­nate all of your pets! Even if you don't ever plan for them to go out­side!
Tags: Blogging, Books, date night, Gaming, library, Reading, RPGs, Sam, Thing-a-Day, wordpress
Posted by Cyn | Filed under Blogging, Family, Fun, Geekery, Health, Holidays, Home, Homeschooling, Music, Reading, RPGs, Writing
I got through NaBloPo­Mo, as ridicu­lous as it was to com­mit to post­ing at least once a day for a month. So of course that small suc­cess has led me, in a moment of more-than-usu­al-luna­cy, to sign up for Blog365 (oth­er­wise known as "Out of the Fry­ing Pan, Into the Fire").


The pur­pose is fair­ly clear: to post at least once every day of 2008. Feb­ru­ary 29 is a "rest day." Posts may be writ­ten on any site, rather than stick­ing to just one blog, so I'll try to spread them around on mine/ours. If I can't get some­thing on the actu­al site on a par­tic­u­lar day due to net con­nec­tion issues or what­ev­er, I have to write (yes, write! like, cuneiform or some­thing!) a jour­nal entry and trans­fer it to a blog as that day's entry.
It would be far sim­pler to have a sys­tem of some sort. Maybe I'll cre­ate a rota­tion:
Fibrant Liv­ing — health, liv­ing with a dis­abil­i­ty, pod­casts
Acad­e­my Car­i­tas — home­school­ing, edu­ca­tion, col­lege
House Fire­heart — polyamory, par­tic­u­lar­ly my and Sam's approach to it
Heart­song Hand­i­crafts — home of my orig­i­nal needle­work pat­terns, and soon to be home for the rest of my stitch­ing infor­ma­tion
Cyber­stalked! — inter­net safe­ty and pri­va­cy issues
Cyn­thia Armis­tead — my pro­fes­sion­al port­fo­lio, where I put the geeky stuff
Ene­my of Entropy — here, of course, where I put gen­er­al stuff, book reviews, and the like.
Hope­ful­ly there will be new pod­casts up soon. There will def­i­nite­ly be more music, as we have that love­ly con­cert piano we received via freecy­cle all repaired and put togeth­er. It's beau­ti­ful and sounds great! Not at all bad for one dri­ve to pick it up and less than $200 in repair fees! (Sam want­ed to just take it to the near­est autho­rized repair cen­ter rather than doing it our­selves.)
2007 wasn't a stel­lar year, but nei­ther was it ter­ri­ble. Sam has a steady, secure job that he enjoys, in an orga­ni­za­tion that's allow­ing him to advance. , Katie had a lot of health prob­lems, but I'm hop­ing that we're on the right path to resolv­ing them. Shel­ley passed away a lit­tle shy of her 18th birth­day, but since we'd been told in 1999 that she only had a year (at most) left, we felt that we'd got­ten an "extra" 8 years with her any­way. Kioshi has grown into a nice com­pan­ion, too.
We real­ly kept to our­selves a lot through the past two years. When you've been betrayed and hurt as deeply as we were by our for­mer housemate's sud­den crazi­ness in 2006, there's a lot of heal­ing to be done. I don't know if I'll ever approach Thanks­giv­ing with­out trep­i­da­tion again, but we had a good one any­way. The stress did con­tribute to the dete­ri­o­ra­tion of my health, and that does make it hard­er to get out. We're work­ing on it, though. We cer­tain­ly learned who our true friends were, and we'll nev­er for­get that.
So on to 2008, which we hope to be full of more time with friends, bet­ter health, much more music, Katie spent last night and almost all day today with friends from the school she was attend­ing as well as her new beau. Sam and I spent the day gam­ing, upgrad­ing some web sites, eat­ing good food and watch­ing movies. If it's true that what­ev­er you do on Jan­u­ary 1 indi­cates how your year will go, we should be just fine.
Tags: actual site, Blog365, Blogging, Cynthia Armistead, Design, Disability, food, Friends, Gaming, Health, internet safety, Katie, Movies, Music, NaBloPoMo, Piano, Podcasts, Reading, Sam, Stitching, thanksgiving, USD, Web Sites, Writing
Posted by Cyn | Filed under Reading, Writing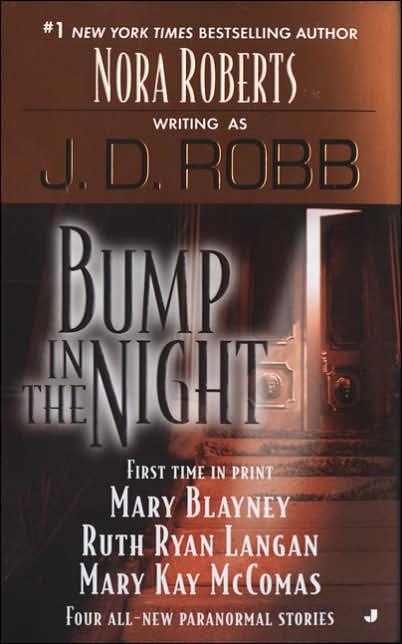 This para­nor­mal romance anthol­o­gy con­tains four novel­las. I'd nev­er heard of three of the authors, but I haven't real­ly looked to see what else they've writ­ten, either.1 They may be well-known to romance fans. I fell into read­ing J.D. Robb's books because of the sci­ence fiction/mystery angle, and didn't ini­tial­ly know that J.D. Robb is a pseu­do­nym for well-known romance author Nora Roberts.2 Her romances may be great, but I'm not inter­est­ed in them. I'm actu­al­ly get­ting pret­ty damned tired of the para­nor­mal romance thing, but since any­body who writes them seems to be able to get a book con­tract, I doubt they'll stop flood­ing the mar­ket any time soon. I try to stick to the ones that have more plot than romance, but some­times it's hard to tell where a book will fall. Lau­rell Hamil­ton, for instance, began writ­ing real­ly good dark fan­ta­sy books that got a lit­tle sexy, and now she's writ­ing romance nov­els that hap­pen to have vam­pires and were­crit­ters in them.3
It's often said that we read fic­tion to get more of some­thing that's miss­ing in our lives. I'm gift­ed with a part­ner who is one of the most roman­tic, lov­ing peo­ple in this world, and, to be blunt, we have a great, um, pri­vate life, which may explain why I don't find romances or erot­i­ca much of a draw. I don't have many mys­ter­ies or much out-and-out adven­ture in my life (thank­ful­ly!), so I enjoy read­ing about them in fic­tion­al char­ac­ters' lives—especially if they take place in set­tings com­plete­ly unlike my own world.
Any­way, on to the review.
The book opens with "Haunt­ed in Death" by J.D. Robb, which her read­ers will imme­di­ate­ly rec­og­nize as an Eve Dal­las sto­ry4 Robb/Roberts is a pro, and the sto­ry is a decent read. But! Is it just me, or are the Eve-Roarke fights and rec­on­cil­i­a­tions get­ting more and more bor­ing? They're always about the same thing!
"Poppy's Coin" by Mary Blayney was my favorite of this anthol­o­gy. Yes, it was obvi­ous from the couple's first encounter how the rela­tion­ship would go, but that's the way it is with the entire romance genre, isn't it? I might actu­al­ly look for more of Blayney's work at some point. After look­ing at her web site, I don't think I'll be read­ing any of her nov­els. I learned that there's anoth­er anthol­o­gy fea­tur­ing these same four authors, Dead of Night, and that the pub­lish­er has con­tract­ed them for a third vol­ume, as yet unnamed. Blayney's piece in the sec­ond col­lec­tion seems to be con­nect­ed with "Poppy's Coin," so I'll prob­a­bly take a look at it. Unfor­tu­nate­ly, hav­ing read this one sto­ry and the descrip­tions of her nov­els, it seems that she's stuck in some­thing of a rut. I can't say more with­out giv­ing spoil­ers for this sto­ry, so I'll leave it to you to vis­it her site if you want to know more.
Ruth Ryan Lan­gan's "The Pas­sen­ger" was okay, I guess. Maybe. Some­thing about the male pro­tag­o­nist set my teeth on edge right away, and I would have kicked his oh-so-self-assured butt out of my abode as soon as he referred to him­self by his famous moniker. Then again, I'd also tell the female lead to put on her big girl panties and get on her with life, as she comes across as way too emo for my tastes. Lan­gan needs to remem­ber to "show, not tell." I might have giv­en her a bit of a pass in a short sto­ry, but this is a novel­la. She had plen­ty of word-count in which to show us some­thing pos­i­tive about her char­ac­ters, instead of label­ing them.
I near­ly stopped read­ing the book when I got to "Mel­low Lemon Yel­low" by Mary Kay McCo­mas. I was total­ly dis­in­ter­est­ed in read­ing about anoth­er whiny chick, right after Langan's sto­ry. I didn't feel any con­nec­tion at all. I fin­ished out of sheer dogged­ness, and will prob­a­bly for­get the sto­ry and the author very quick­ly. I can hope, any­way.
If you're a com­pletist, as I am, and you read the In Death books, you'll want to read this vol­ume. If I col­lect­ed the nov­els5, I'd buy this one used if at all pos­si­ble. As it is, I'm glad I checked it out of the library instead of invest­ing any mon­ey in it.
---
1 Well, I hadn't done so before I began writ­ing this review. I looked up their web sites to link to them, obvi­ous­ly.
2 Well-known to romance fans, any­way. I hadn't heard of her before read­ing the Robb books. Come to think of it, the first thing I read by Robb was anoth­er anthol­o­gy, Out of This World, which I picked up because of the Ani­ta Blake novel­la in it. That was before I real­ized that all such novel­las are real­ly the first chunk of Hamilton's next nov­el, and if I read them it spoils some of the plea­sure I'd oth­er­wise find in that nov­el.
3 I con­sid­er the Ani­ta Blake books to be her first nov­els. That hor­rid Night­seer thing is just a bad tran­scrip­tion of somebody's role­play­ing cam­paign. If I were Hamil­ton, I would have acquired and destroyed every copy in exis­tence, then prayed that the world would for­get about it.
4 They're all enti­tled "(some­thing) in Death."
5 I don't, as I don't antic­i­pate ever want­i­ng to re-read them.
Tags: Anita Blake, Bump in the Night, Eve Dallas, J.D. Robb, Laurell K. Hamilton, Mary Blayney, Mary Kay McComas, Nightseer, Nora Roberts, paranormal romance, Ruth Ryan Langan
Posted by Cyn | Filed under Announcement, Blogging, Writing
If you look way, way down the side­bar to see the cal­en­dar thingie, there's at least one post on every sin­gle day of Novem­ber!
Posted by Cyn | Filed under Blogging, Family, Health, Music, Reading, Writing
I think I want a Nation­al Nov­el Read­ing Month. I could do a nov­el a day (as long as I chose the right nov­els, of course). I'm behind on writ­ing reviews, but I'm wal­low­ing unabashed­ly in the num­ber of good reads avail­able to me right now. I've tweaked the Now Read­ing wid­get to show up to ten cur­rent books instead of just five.
I total­ly flubbed NaNoW­riMo. No, I don't wan­na talk word count. Ugh. I have, how­ev­er, man­aged to keep up with NaBloPo­Mo. so far, and there's only one day to go! Data­base prob­lems have giv­en me some trou­ble with get­ting the posts to the pub­lic at some points, but I've writ­ten an entry every sin­gle day, and I think all of them are even show­ing up now. (The auto­post­ed Tweets for the day don't count, of course.)
TodayOn Thurs­day, Katie and I drove all over the place, as she had an orth­don­tic appoint­ment and I fool­ish­ly chose to com­bine that with oth­er errands. Dri­ving = can't take usu­al pain meds. I came home and col­lapsed with a fever. Now it's the nor­mal time to sleep, and I'm in too much pain to go lay down. (Actu­al­ly, I was so fog­gy that I for­got to hit the "Pub­lish" but­ton last night!)
But, thanks to a freecy­cler, we now own a Korg 88-key elec­tric piano. The catch: It's tak­en apart. Com­plete­ly. I've nev­er seen the innards of such a thing before!
Why did the pre­vi­ous own­ers take it apart, then give it away? Their tod­dler spilled paint on the keys. The donor couldn't remem­ber if it was fab­ric paint or acrylic paint, but it isn't water-sol­u­ble, in any case. For­tu­nate­ly, the paint did not get into the elec­tron­ics! Unfor­tu­nate­ly, it did stick a few keys togeth­er. So the man of the house took it apart, intend­ing to clean it up—then stuck it in the garage, where it has lan­guished for two years. In a clean­ing fit this week, he decid­ed to toss it out and just get a new one. Hap­pi­ly for me, his wife per­suad­ed him to give her a week to offer it on freecy­cle instead, and now it's ours!
I'm encour­aged by the fact that every­thing worked before it was tak­en apart (oth­er than the stuck keys). I'm excit­ed about hav­ing a piano. Now I have to fig­ure out what to use to gen­tly clean said keys, then fig­ure out how to reassem­ble the whole thing. I con­sid­ered just tak­ing it to the near­est autho­rized repair cen­ter, but I want to see if we can do it first, as their quot­ed labor rate of $70/hour would add up very quick­ly. This is a $1,000 instru­ment, so it's worth putting some mon­ey into mak­ing it work. Hav­ing the mon­ey, as usu­al, is the prob­lem.
It came with its nice stand, which is inte­gral to the piano, as it has the ped­als on it. I'll still need a bench, but I'll deal with that after I have it work­ing.
A repair man­u­al would be very use­ful. The instru­ment man­u­al can be down­loaded from the Korg web site, but since these things aren't con­sid­ered user ser­vice­able, it doesn't show how to take the piano apart and put it back togeth­er. If I can get it cleaned up, though, I can prob­a­bly ask Dad­dy for assem­bly help. My Dad­dy can fix any­thing.1 He's much bet­ter with things than with peo­ple.
I'm total­ly open to sug­ges­tions for gen­tle sol­vents.2 I'm fig­ur­ing non-ace­tone nail pol­ish remover might do it, but will it dam­age the keys?
Of course, if any of you fine folks hap­pen to have expe­ri­ence with tak­ing elec­tric pianos apart and reassem­bling them, by all means, please speak up! (Hey, a girl can hope, can't she?)
---
1 Yes, I am 41 years old, and he'll always be Dad­dy, and I'll always believe in his mirac­u­lous fix-it-abil­i­ty
2 Yes, that's some­thing of an oxy­moron.
Tags: acrylic paint, Books, electric piano, electronics, fabric paint, gift, Korg, Music, NaBloPoMo, paint, Reading, USD
Posted by Cyn | Filed under Blogging, Family, Geekery, Holidays, Home, Organization, Writing
It has been such a lazy day. All our body clocks are com­plete­ly con­fused. It's going to be so hard on Sam to get up Mon­day morn­ing!
These days have been sweet and uncom­pli­cat­ed. I just had a delight­ful can­dlelit bath, with my sto­ry­teller stay­ing with me the whole time. I am very, very sleepy now.
I've put this off for a time out of sheer lazi­ness, I sup­pose, but it's past time to move the rest of the arti­cles on this site into Word­Press. I don't know how long it'll take me to work through them, but I'll try to space them out a bit so as not to flood the feed. I'll try to remem­ber to use the "more" tag, too.
I can't just dump the HTML into posts or pages, because there's always some­thing that's out­dat­ed, or that I would put dif­fer­ent­ly now. And, of course, I'm try­ing to do this migra­tion with­out leav­ing a bunch of bro­ken links, which means set­ting up redi­rects as I go.
Yes, I know that I have obses­sive-com­pul­sive dis­or­der. It's offi­cious­ly diag­nosed and every­thing. No, there's noth­ing you can do or say that will relieve me of feel­ing that I had to go through every sin­gle arti­cle.
Oh. To be more accu­rate than above, I've put this off due to sheer per­fec­tion­ism, which is high­ly sus­cep­ti­ble to pro­cras­ti­na­tion for exact­ly these kinds of rea­sons.
Tags: Blogging, holiday, HTML, OCD, perfectionism, sleepy, storyteller, weekend, wordpress
Posted by Cyn | Filed under Blogging, Geekery, Memes, Podcast, Writing
Utter insan­i­ty. All of it. My fall class­es just start­ed. I'm in a flare (when am I not? but seri­ous­ly, I am).
But hey! I hate my birth­day, and three insane new things for the month should, at least, be dis­tract­ing!
So, yes, this would be my sec­ond NaBloPo­Mo post. I'm hav­ing a lit­tle tech­ni­cal trou­ble actu­al­ly post­ing the NaPod­Po­Mo part, but I'm doing them. And fine, might as well top it off with NaNoW­riMo.
It's Hope's fault. And Sam's. And, um, right. Kioshi's. All of you. Dread­ful.
Don't mind me. By the end of Novem­ber, at least, I won't have any hair left, so I won't be spend­ing any more time wor­ry­ing over whether or not to get it cut, or col­or it, or what­ev­er!
Tags: Blogging, challenge, NaBloPoMo, NaNoWriMo, NaPodPoMo, novel, Podcast, podcasting, Writing