Posted by Cyn | Filed under Fun, NaBloPoMo
Plinky asked, "Who's your favorite come­di­an? Is there any­one you can't stand?"
George Car­lin May 12 1937 — June 22 2008
George Car­lin is the King of Come­di­ans as far as I'm con­cerned. He's always hilar­i­ous. I love watch­ing old clips and read­ing his books. His death was a huge loss to the world and came far too ear­ly. It cer­tain­ly doesn't hurt that he shared my lack of respect for reli­gion.
I see no rea­son to name come­di­ans I can't stand and give them atten­tion, but pure­ly phys­i­cal com­e­dy leaves me cold, as does any­thing that involves pick­ing on mem­bers of the audi­ence.
Tags: comedians, comedy, George Carlin, Humor
Posted by Cyn | Filed under NaBloPoMo
Face­book
Plinky asked: "When you need a good laugh, who/what do you turn to?"
I can usu­al­ly rely on my Face­book friends to have some­thing up that will make me laugh. They haven't failed me yet!
Posted by Cyn | Filed under Fun
"Watch all the top­soil go down the Mis­sis­sip­pi. Trans­port your chil­dren in bas­kets on top of your SUV death­mo­biles. Keep play­ing with your cute and cud­dly pal, the atom. Press your nose against the TV screen for even more edu­ca­tion­al 3rd Rock From The Sun enjoy­ment. Use plen­ti­ful gaso­line to burn book- read­ers at the stake. Don't eat any­thing but sug­ared pork lard. Do what­ev­er you want."
Nation's Experts Give Up: 'From Now On, You're On Your Own,' Say Experts
I need­ed that laugh, so I fig­ured you might enjoy it too.
Tags: experts, Humor, The Onion
Posted by Cyn | Filed under Announcement, Blogging, Humor
Foul­Bas­tard wins with an aston­ish­ing 34% of the votes! It may not sound like a huge lead, but when you con­sid­er that we had 33 nom­i­nees and 106 votes, it is! The first run­ner-up, Bad­Banana, had 14% of the vote.
Read the rest of this entry »
Tags: Andrew Sutherland, Humor, microblogging, Shashi Bellamkonda, Twitter
Posted by Cyn | Filed under Fun, Geekery, Humor
From Lau­rie McGuin­ness, part of a hilar­i­ous series.
Thanks for the point­er, Pre­cious!
Tags: Humor, Laurie McGuiness, Laurie McGuinness, mac vs pc, parody, rivalry, satire
Posted by Cyn | Filed under Art, Blogging, Critters, Fun, Humor, Links
The video I ded­i­cat­ed to Katie isn't actu­al­ly called Wake Up Cat, and it has been pulled from YouTube (or it was—it seems to be back, now).
The piece is by ani­ma­tor Simon Tofield of Tan­dem Films, and is prop­er­ly titled Cat Man Won. You can view it on their site.
Tags: correction, Critters, Humor, morning, Simon Tofield, Tandem Films, video, YouTube
Posted by Cyn | Filed under Fun, Geekery, Humor, Relationships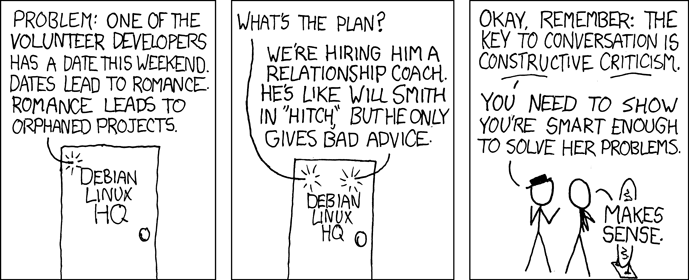 Tags: cartoon, dating, geeks, Humor, XKCD
Posted by Cyn | Filed under Health, Humor
Great car­toon from Ragged Edge. I want to get that notepad print­ed up!