Posted by Cyn | Filed under Relationships
Would any of you who are involved with mul­ti­ple part­ners, or who have been so involved, whether or not you iden­ti­fy as polyamorous, be will­ing to take a research sur­vey? You don't have to give any indi­vid­ual iden­ti­fy­ing infor­ma­tion at all, if you don't want to.
Mul­ti­ple Part­ners Sur­vey
From the site:
Thank you for your inter­est in par­tic­i­pat­ing in this mul­ti­ple part­ners sur­vey. For this project we're explor­ing the dif­fer­ences in atti­tudes, beliefs and prac­tices between peo­ple who open­ly call them­selves polyamorous and those who engage mul­ti­ple sex­u­al part­ners in a more inde­pen­dent, self-styled way. We want to explore whether the "cul­ture of polyamory" (e.g. atti­tudes, beliefs and prac­tices) has pos­i­tive­ly impact­ed the expe­ri­ence of con­sen­su­al mul­ti­ple part­ner rela­tion­ships. To par­tic­i­pate in this study you must be (or have recent­ly been) in mul­ti­ple (simul­ta­ne­ous) rela­tion­ships where­in your oth­er part­ners knew you were (or could have been) involved with some­one oth­er than them. You may also par­tic­i­pate in this sur­vey if you are (or were) involved with some­one who is/was open­ly involved with oth­ers in addi­tion to your­self. If you open­ly prac­tice polyamory your par­tic­i­pa­tion is cer­tain­ly wel­come as well. Do note that the infor­ma­tion you share here will remain com­plete­ly anony­mous; your per­son­al answers will be dis­closed to no one. Please try to answer every ques­tion as best as you can. If a word or phrase could have more than one mean­ing, please inter­pret it accord­ing to your own usage. Pre­lim­i­nary results will be shared at the Soci­ety for the Sci­en­tif­ic Study of Sex­u­al­i­ty Meet­ing in San Diego on April 11, 2008. The prin­ci­ple inves­ti­ga­tor for this project is Anthropologist/Sexologist Dr. Lean­na Wolfe who is based at Los Ange­les Val­ley Col­lege. She may be con­tact­ed at LAWolfe@aol.com.
Tags: Leanna Wolfe, Los Angeles Valley College, multiple partners, non-monogamy, open relationships, polyamory, San Diego, Society for the Scientific Study of Sexuality, survey, swinging
Posted by Cyn | Filed under Family, Health, Holidays, Relationships
Hap­py Valentine's Day to all, whether you're part of a cou­ple (tri­ad, quad, etc.) or not 🙂
Sam­bear brought home truf­fles and flow­ers! And iTunesi­ness! And then he went and cooked deli­cious steaks for din­ner!
My baby girl's sweet­ie has mono. Ewww. They had to put off their spe­cial din­ner tonight 'til after he's feel­ing bet­ter. Hope­ful­ly he'll get over it more eas­i­ly than she did a few years back! Since she and I have had some sort of flu-thing that we caught from him, I know the poor guy is hav­ing rot­ten luck. Flu, then mono? Ick!
I spent a ridicu­lous amount of time look­ing at the pho­tos Char­lie over at The Dai­ly Coy­ote. I don't think it would have occurred to me to call a coy­ote "cute," until I saw this. He's a very well-behaved coy­ote, raised with lots of help from a cat. 'd love to show you one of Charlie's pho­tos here, but I don't want vio­late his Mom's copy­right. Go look!
In the not-fun part of the world, the CDC says that at least 82 kids have died in the US play­ing "the chok­ing game." I will admit that I ini­tial­ly assumed they were talk­ing about acci­dents involv­ing auto­erot­ic asphyx­i­a­tion, but those are actu­al­ly count­ed sep­a­rate­ly. Who­dathunkit?
The play­ers are most­ly ath­letes and well-behaved kids who want to get a "high" feel­ing with­out drugs or alco­hol. Those who have died were all play­ing alone. The researchers do state that the sta­tis­tics aren't reli­able, because there's not a sep­a­rate cat­e­go­ry for coro­ners to use to dif­fer­en­ti­ate sui­cide from a pos­si­ble "game" gone wrong, but the expec­ta­tion is that the prob­lem is being under­stat­ed rather than over­stat­ed.
I real­ly hope my daugh­ter knows that even tem­po­rary loss of oxy­gen to the brain can cause brain dam­age, but if she didn't before, she will by tomor­row. She isn't in the prime age group for this but of crazi­ness, but it's eas­i­er to talk to your chil­dren than to bury them. I know, just 82 in how many years? But that's 82 young peo­ple who might be alive if they'd had a bet­ter under­stand­ing of phys­i­ol­o­gy, at the very least.
Tags: dinner, flowers, Sam, sickness, the choking game, The Daily Coyote, truffles, Valentine's Day
Posted by Cyn | Filed under Poetry, Reading, Relationships
For my Sam
A Mar­riage
You are hold­ing up a ceil­ing
with both arms. It is very heavy,
but you must hold it up, or else
it will fall down on you. Your arms
are tired, ter­ri­bly tired,
and, as the day goes on, it feels
as if either your arms or the ceil­ing
will soon col­lapse.
But then,
unex­pect­ed­ly,
some­thing won­der­ful hap­pens:
Some­one,
a man or a woman,
walks into the room
and holds their arm up
to the ceil­ing beside you.
So you final­ly get
to take down your arms.
You feel the relief of respite,
the blood flow­ing back
to your fin­gers and arms.
And when your partner's arms tire,
you hold up your own
to relieve him again.
And it can go on like this
for many years
with­out the house falling.
From Against Romance: Poems by Michael Blu­men­thal, Pen­guin Books, 1988
Tags: Love, marriage, Michael Blumenthal, Poetry, romance, Sam
Posted by Cyn | Filed under Blogging, Family, Health, Home, News, politics, Relationships, Sex
I had an entry almost com­plete­ly writ­ten, and it was good. Then I hit some­thing bad­ly with my numb hand, and my brows­er backed up a page. Now the entry is all gone. Yes, I should have saved some­time while writ­ing, but I was on a roll.
So you'll have to set­tle for know­ing that I spent the day recov­er­ing from yes­ter­day but my body is still pis­sy at me. Oth­er­wise, I think the ACLU is very con­fused about what "pub­lic" means. Accord­ing to the APA, I am not myth­i­cal (which is a big relief), and researchers at the Uni­ver­si­ty of San Diego say that same sex rela­tion­ships may be health­i­er than oppo­site sex cou­plings. Final­ly, the Queen is firm­ly "low­er­ing the 'chav' fac­tor" at Roy­al Ascot, which is sure to make the world a far safer place. Or some­thing.
Tags: ACLU, bisexuality, GLBT, marriage, royalty, University of San Diego
Posted by Cyn | Filed under Family, Fun, Geekery, Relationships, RPGs
Sam has talked about this sub­ject in sev­er­al of his pod­casts, but I don't think I've ever tried to address it. I may fail mis­er­ably, but I'll try.
Sam and I had one of our twice-week­ly "date nights" tonight. That means that from about 7pm 'til we go to bed, we do noth­ing but have fun with each oth­er. The girl amus­es her­self oth­er­wise, or goes out, and we do what­ev­er we like. Usu­al­ly, that means we spend some time gam­ing.
Read the rest of this entry »
Tags: energy, Fantasy, Gaming, Horatio Hornblower, Love, Parenting, Penny Arcade, romance, RPGs, Sam
Posted by Cyn | Filed under Reading, Relationships, Sex
From today's Delancey Place newslet­ter:
In the ter­rain of the human heart, sci­en­tists tell us, at least three inde­pen­dent but inter­re­lat­ed brain sys­tems are at play, all mov­ing us in their own way. To untan­gle love's mys­ter­ies, neu­ro­science dis­tin­guish­es between neur­al net­works for attach­ment, for care­giv­ing, and for sex. Each is fueled by a dif­fer­ing set of brain chem­i­cals and hor­mones, and each runs through a dis­parate neu­ronal cir­cuit. Each adds its own chem­i­cal spice to the many vari­eties of love.

Attach­ment deter­mines who we turn to for suc­cor; these are the peo­ple we miss the most when they are absent. Care­giv­ing gives us the urge to nur­ture the peo­ple for whom we feel most con­cern. When we are attached, we cling; when we are care­giv­ing we pro­vide. And sex is, well, sex. …

The forces of affec­tion that bind us to each oth­er pre­ced­ed the rise of the ratio­nal brain. Love's rea­sons have always been sub­cor­ti­cal, though love's
exe­cu­tion may require care­ful plot­ting. … The three major sys­tems for loving—attachment, care­giv­ing, and sexuality—all fol­low their own com­plex rules. At a giv­en moment any one of these three can be ascendant—say, as a cou­ple feels a warm togeth­er­ness, or when they cud­dle their own baby, or while they make love. When all three of these love sys­tems are oper­at­ing, they feed romance at its rich­est: a relaxed, affec­tion­ate, and sen­su­al con­nec­tion where rap­port blos­soms. …

Neu­ro­sci­en­tist Jaak Pansepp…finds a neur­al corol­lary between the dynam­ics of opi­ate addic­tion and the depen­dence on the peo­ple for whom we feel our strongest attach­ments. All pos­i­tive inter­ac­tions with peo­ple, he pro­pos­es, owe [at least] part of their plea­sure to the opi­oid sys­tem, the very cir­cuit­ry that links with hero­in and oth­er addic­tive sub­stances. … Even ani­mals, he finds, pre­fer to spend time with those in whose pres­ence they have secret­ed oxy­tocin and nat­ur­al opi­oids, which induce a relaxed serenity—suggesting that these brain chem­i­cals cement our fam­i­ly ties and friend­ships as well as our love rela­tion­ships.
Daniel Gole­man, Social Intel­li­gence: The New Sci­ence of Human Rela­tion­ships, Ban­tam, © 2006 by Daniel Gole­man, pp. 18
Def­i­nite­ly a book that I intend to read! I found Emo­tion­al Intel­li­gence quite good, but had some­how missed this new­er book.
I strong­ly rec­om­mend the newslet­ter, which brings inter­est­ing excerpts from an incred­i­ble vari­ety of books to your mail­box every day.
What do you think? Is it all about the opi­ates? Do you have, or have you had, a romance in which all three sys­tems were go?
Tags: attachment, brain chemicals, caregiving, chemical spice, Daniel Goleman, Emotional Intelligence, interrelated brain systems, Love, love systems, neural networks, neurochemistry, neuroscience, opiates, Relationships, Sex, social intelligence, Three Love Systems, Three Love Systems From Social Intelligence
Posted by Cyn | Filed under Education, Family, Home, Homeschooling, Parenting, Reading, Relationships
So, the Crazy Hip Blog Mamas want me to talk about what read­ing means to me or my child. How about both?


You might have noticed that I talk, a lot, about read­ing. I think Now Read­ing shows at least four five of the books that I'm read­ing right now, and that's a fair­ly nor­mal num­ber. I don't include my text­books, because they'd be there too long!
Read­ing is one of the things that I can still do, most of the time, despite the fibro and oth­er crap. I can't always man­age to read on a screen, or fol­low some­thing like a text­book. For­tu­nate­ly, though, fic­tion by some of my favorite authors—especially an old favorite nov­el, like Part­ners in Necessity—is eas­i­er, and is a very good way to dis­tract myself from the pain for a while.
I haven't talked about it much, but Katie has had increas­ing health prob­lems over the last year. Her migraines are no longer man­aged, despite tak­ing high lev­els of pre­ven­tive med­ica­tions. The res­cue med­ica­tions aren't work­ing well because she has to take them too often. She had anoth­er round of sleep stud­ies, too, and a new neu­rol­o­gist has been try­ing dif­fer­ent med­ica­tions to help her get a decent night's sleep (which should help the migraines and oth­er prob­lems). So far, any­thing that helps her sleep despite severe rest­less leg syn­drome leaves her zomb­i­fied the rest of the time. Provig­il, even tak­en twice a day, can't keep her awake and aware enough to func­tion in school. She's lit­er­al­ly sleep­ing like a cat, 14–18 or hours a day, just nev­er deeply. Her dark cir­cles have cir­cles, now.
But she can still read, too. Slow­ly, some days, and going back to re-read some pages, but she gets the same com­fort from it as I do. You know she's mine when you real­ize that she's nev­er with­out at least one, and often two, books in her purse.
I start­ed read­ing to her dur­ing my preg­nan­cy, along with talk­ing and singing and play­ing music for her. I read out loud to her from her first week out of the womb, too, some­times while breast­feed­ing, oth­er times while just being with her. She talked at an ear­ly age, and was very clear. She learned to read quick­ly, too, and has always been very opin­ion­at­ed (where did she get that?) about her choice of read­ing mat­ter. One of her favorite things about leav­ing the pub­lic school sys­tem was being free of that damned Accel­er­at­ed Read­er pro­gram and its ridicu­lous restric­tions!
It's no sur­prise that I hope my nephews and niece are read­ers, too—although that's far less like­ly, since their par­ents aren't, real­ly. My broth­er used to brag that he'd nev­er read any whole book, even those assigned for class­es. (I nev­er under­stood that being a point of pride, even if he did get good grades.) My sis­ter has nev­er read any­thing that wasn't required. I don't know their spous­es very well, but I'm fair­ly sure they aren't recre­ation­al read­ers, either. At least the grand­ba­bies have our moth­er (their Nana), who got me start­ed read­ing, and will sit for hours with any child, read­ing book after book (or the same book, over and over) patient­ly.1 I'm not close to my sib­lings, geo­graph­i­cal­ly or oth­er­wise, so I don't have many chances to influ­ence the babies. I can give them books, though, and hope to catch their fan­cy so they ask to have them read!
Being a flu­ent read­er gives one more of an advan­tage that any oth­er skill you can give your child. Read­ers can use that skill to learn absolute­ly any­thing else. They can explore math, sci­ence, crit­i­cal think­ing, his­to­ry, cur­rent events, art—you name it. If you teach them to read, get them in the habit of doing so, and teach them to judge their sources well, you've giv­en them an incred­i­ble start on life.
---
1 Mom (and I!) did read to my sib­lings, but nei­ther of them ever want­ed to sit still long.
Tags: Books, children, Education, media literacy, Parenting, Reading, thinking
Posted by Cyn | Filed under Fun, Geekery, Humor, Relationships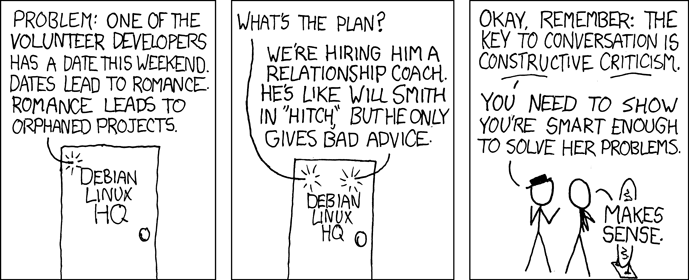 Tags: cartoon, dating, geeks, Humor, XKCD
Posted by Cyn | Filed under Parenting, Relationships, RPGs
Wow.
It's been almost as fun lis­ten­ing to the kids (Katie's gang, here for her birth­day par­ty) game as it would be to be part of a game myself. Maybe I will play Vam­pire some day. I sup­pose I'd trust Sam to run just about any­thing.
They're watch­ing some­thing now — Mir­ror­mask, it sounds like. I couldn't believe that her Wolfie hadn't seen it, as it's so very much her kind of movie.
The house is clean­er than it's been in a coon's age. I'll mark that up to being large­ly (not quite) done with the semes­ter and to mak­ing prepa­ra­tions for the par­ty. Sam and Katie were both mar­velous about clean­ing up.
The girl has been so exhaust­ed that she missed dance yes­ter­day, so I was a bit wor­ried about her. She's still going strong, though. She slept well past noon today! With her health con­cerns, she's always run­ning at the edge of her ener­gy, even with catch­ing naps where she can, so I sup­pose her fatigue is to be expect­ed after she stayed out 'til (mum­ble­ty-mum­ble) Tues­day night/Wednesday morn­ing.
Yes, on a school night. The one thing she real­ly want­ed for her birth­day was to go to the Dres­den Dolls con­cert, and the only night they were in town was a Tues­day. She man­aged a TMBG show on a week night last year with­out a stum­ble, so we final­ly gave in.
Some­where between the time I bought tick­ets online for an "all ages" show (back in August) and the time I picked up tick­ets on Sun­day, it changed to an "Adults only" show! Well, that was a sur­prise. I asked around a bit, and we decid­ed that we were still cool with her attend­ing. For­tu­nate­ly, she and her friends had no trou­ble get­ting in. The rea­son for the rat­ing was a bur­lesque show in the open­ing act. God­dess for­bid that teens see boo­bies in pasties!
I still remem­ber when birth­day par­ties were all-girl affairs with lots of pink­ness, games and bal­loons and crafts and squeal­ing. They weren't bet­ter than this, by any means, but time does fly.
Sam is try­ing to lure me back onto Sec­ond Life now. Dread­ful man. I sup­pose we might as well go be even nerdier at this point.

Tags: Dresden Dolls, energy, Katie, Sam
Posted by Cyn | Filed under Relationships
I have referred to The Man Diet sev­er­al times as some­thing I have done and rec­om­mend. After explain­ing it sev­er­al times, I've decid­ed to write it up here and just refer peo­ple to the arti­cle.
I call it the Man Diet, but that's real­ly a mis­nomer. It should be an SO Diet or Rela­tion­ship Diet or some­thing like that. It just doesn't roll off the tongue quite as well, so just take it as giv­en that I'm refer­ring to women, men or who­ev­er you would nor­mal­ly have romantic/sexual rela­tion­ships with.
There was a time when I went from one rela­tion­ship to the next. If I didn't have one or more SOs, I felt incom­plete. I didn't have incred­i­bly healthy rela­tion­ships, but I was sel­dom alone! I derived much of my self-esteem from being in rela­tion­ships with oth­ers.
Unfor­tu­nate­ly, that led to "set­tling" for peo­ple who didn't real­ly meet the stan­dards I thought I want­ed in sig­nif­i­cant oth­ers, and often to accept­ing treat­ment that ranged from unpleas­ant to down­right abu­sive.
Right now, I do not tru­ly remem­ber what trig­gered the real­iza­tion that I'd nev­er have a tru­ly healthy rela­tion­ship if I felt that I absolute­ly had to have a rela­tion­ship with some­one oth­er than myself—that, in fact, cul­ti­vat­ing a healthy rela­tion­ship with myself, being com­plete in myself, was vital.
I didn't think all that out so clear­ly at the begin­ning. I was just tired of the crap. I was tired of going from one rela­tion­ship to the next and hav­ing the same crap come up over and over again. I was tired of the mer­ry-go-round. I didn't hon­est­ly count on hav­ing any more sig­nif­i­cant oth­ers. I just decid­ed that I was done. I swore off men for a year.
At the begin­ning of that peri­od, I felt anx­ious. I felt lone­ly. I felt more than a lit­tle des­per­ate, because hon­est­ly, I have nev­er been alone unless I chose to be that way. I'd spent my life using rela­tion­ships to avoid hav­ing to deal with my own issues in a deep way. If I hadn't told sev­er­al friends what I was doing and asked them to help keep me hon­est, I don't think I would have stuck with it.
In the next few months, I seemed to meet poten­tial SOs every time I turned around. It was tru­ly rain­ing men! That was dif­fi­cult. It was real­ly tempt­ing to just make a lit­tle excep­tion, because hey, he was just so nice! Or so smart, or fun­ny, or what­ev­er. But there's noth­ing like true friends to kick your butt when you need it.
To be hon­est, I've nev­er had a prob­lem deal­ing with most prac­ti­cal things—balancing check­books, basic home repairs, even sim­ple auto main­te­nance. I didn't need a man to take care of any of that. No, I looked to SOs to keep me com­pa­ny, to keep me occu­pied, to suck up lots of ener­gy. I felt beau­ti­ful because they said I was, because they want­ed to be with me.
So I found oth­er ways to use my time and my ener­gy. I went out with friends as friends. I devel­oped new friend­ships that were much bet­ter because I wasn't putting any­thing into won­der­ing whether or not the rela­tion­ship would move into oth­er areas. If nobody else want­ed to go see a par­tic­u­lar music event, I went alone.
I final­ly faced up to some of the issues I was avoid­ing when most of my ener­gy was going into inter­ac­tions with an SO—like why did I need a man around to feel worth­while? Why did I accept treat­ment that I wouldn't want any of my friends to accept—that I had, in fact, told oth­er peo­ple to walk away from? Why wasn't I hold­ing out for the kind of per­son I want­ed? Hell, why hadn't I sim­ply become the per­son I want­ed?
While I was real­ly count­ing the days at first, by the end of that year I didn't even real­ized it was done. I didn't think about it until a cou­ple of months lat­er when a friend men­tioned it. Hey, it was over! I real­ized that I didn't feel an urge to run out and start any­thing new. I was just fine with being me, with­out a man.
I won't pre­tend that I'm all past all of that stuff. It comes back at times, but not near­ly as strong­ly. It's much eas­i­er to insist on the kind of treat­ment I deserve from an SO, because I don't fear being alone. I can be alone, and be hap­py. Not a prob­lem.
I think spend­ing at least a year alone as a tru­ly inde­pen­dent adult is a good idea for absolute­ly any­one. If pos­si­ble, live alone. Be sole­ly respon­si­ble for your­self finan­cial­ly. Devel­op a healthy social life that has noth­ing to do with whether or not you have an SO. Do any­thing you've been putting off. Were you wait­ing to take a vaca­tion until you had some­one to go with? Go now. Go back to school. Change jobs. Vol­un­teer. Learn to dance. Just do it, and enjoy it.
Dur­ing that year, prac­tice celiba­cy. That means not only do you not have SOs, but you don't have "friends with ben­e­fits" or one-night stands. Just be with your­self. Hon­or your­self. Love your­self. Treat your­self as you would some­one you tru­ly trea­sure.
Tell some­body what you're doing. Tell peo­ple you can trust to help you con­tin­ue on to your goal. If some­one isn't sup­port­ive, dis­tance your­self from that per­son. I don't care if that per­son is an imme­di­ate fam­i­ly mem­ber. You need to main­tain bound­aries, and you don't need any­one tear­ing you down. Seek out new friend­ships with peo­ple who are sup­port­ive.
It may take some peo­ple longer than a year to get past the "ohmigod I'm gonna get old and be ALONE!" pan­ic. That's fine. Take what­ev­er time you need. I promise that you will be health­i­er and hap­pi­er for it. The world, and all the men and women in it, will still be there when you're ready.
Tags: celibacy, emotions, energy, life, Love, men, recovery, Relationships, self-esteem, women